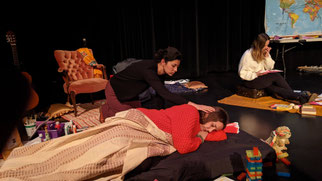 The pandemic has finally stimulated my artistic activity: two theatrical performances, one of which included one of my songs and the setting to music of a poem that is not mine. I must admit that I am the first one surprised! And apparently, this is only the beginning...
'De la plume à la scène' (From pen to stage) - a journey in times of pandemic
This project of staging letter exchanges between French-speaking adults in difficult situations and students learning French in a Vancouver school (anonymously) led me to play the role of a Mauritian woman, to play my own music, to set someone else's words to music and to assist in the staging. It was incredibly interesting and I would say that I outdid myself. I didn't expect to do all of this and more importantly to be able to do it!
Magda Ochoa, our director, is like a conductor and we are the strings and the keys that they play to create a symphony. It's beautiful! To me, she is a person who wants to bring out the best in us, the best in order to embody the right emotion.
We had a full house for our only performance on March 31, with 100 spectators, in Studio 16 of the Maison de la Francophonie. I am very happy that this project was supported by La Boussole, an organization that I cherish for its actions in the community.
I remember looking for agreements to put this person's poem on my couch. The challenge was that it was prose, so the vocal line was not obvious. On stage, I must admit that I lost the thread at one point and that it was difficult to hear the other musician. But it's the hazards of the job, of the stage and apparently, it didn't get along too well.
I was happy to finally feel my voice "open". Since I came to Vancouver, I had the impression that I had lost my voice, that it was a little curled up, that it sounded less. But since I've been doing yoga, I feel like it's flowing more easily. It must be that you physically open the chest and that it must help the breathing for example. I notice it with the "Om" that we chant at the beginning and at the end of the session. Sometimes I even feel that I can sense "dimensions" in the chanting. I used to feel this in my own songs when I experimented with more throaty sounds. I think some of my readers won't really imagine me doing throaty sounds but that doesn't mean I sing heavy metal!
I felt a communion with the other actors and the whole crew. For the technical side, hats off to the lighting designer who helped us two days before and who accomplished what we wanted on stage.
I met the person I played on stage and once again, I was overwhelmed with emotion. It is even more disturbing because we are connected, a bit like sisters, by the same root, Mauritius. Once again, I really made sure to try to respect the person I played as much as possible, not to caricature anyone, to use the words of our first role, Nunamata (Macy in real life), volunteer of the year at La Boussole.
I also did an interview for the WebOuest channel which made a documentary about the project. It will be very strange to see me in an interview: usually, I'm the one asking the questions!
I was exhausted for several days after the performance but so happy. It's an intense thing, the stage. The performance and the music on the same stage, it's another dimension.
The Radio Canada reports are online for TV and a podcast.
The call of the stage?
It's funny how things sometimes happen. On the day of the performance of "De la plume à la scène", I was waiting in front of the theater and something quite incredible happened. A restaurant shares the premises of the Maison de la Francophonie, as does Studio 16 where we performed. A family came out of the restaurant, the lady smiled at me and I smiled back. We started a conversation. She noticed my guitar and asked me if I would be interested in being a solo artist for a wedding on Galiano Island! To be continued...
Since that show, the person I played said she was inspired by seeing me sing on stage and would like to develop a choir project. After the pandemic, we are all thirsty for meetings and sharing in the real world. This will be a project about the different linguistic communities of Vancouver (and Canada) and I will practice the difficult art of writing. You have to start somewhere!
I've been contacted about another project in a language other than English and French. It sounds very interesting but I can't give too much away right now!
I also played guitar with a friend in a park, a very Vancouver practice as soon as it stops raining (note that I could have said when the weather is fine but a fine day in Vancouver is a day without rain, even if it's overcast and cold). It was a beautiful moment and we will try to write songs in French together.
Judge for a public speaking contest
I will soon be a volunteer judge for the Canadian Parents for French public speaking contest for the British Columbia and Yukon region. I must admit that I am looking forward to being in contact with French education again, even if it is in an indirect way.
I met a very nice lady at the Festival du Bois at their booth and I was happy to see French children's literature, reminding me of my own (especially when I see Glénat albums, reminding me of my long absorbed readings at the library when my mother took the time to choose her books). I have always loved comics and find them to be a sometimes undervalued and underutilized medium in the educational world. As an adult, I still binge on comics and graphic novels. It's not for nothing that comics are called the ninth art.
Multilingualism, a constant in my life
Although I was raised in one language, French, I was always attracted to other languages at a very young age. Although I understood absolutely nothing, I sang "in yogurt" to the songs I was exposed to at home (in English and Brazilian). Later on, I had the chance (we forget too much in France) to learn other languages at school: English, Spanish and even a little bit of German.
In Paris, I had bilingual friends. Then when I started to travel, my friends' skills also expanded. I began to meet people who could speak languages that were very exotic to me but also had the ability to speak three or more...
It fascinates me and I hope to soon enrich myself by learning other languages. That's why one of my next artistic projects will be about this very theme. We must show this beauty!
The Festival du Bois
I went to the Festival du Bois, a francophone music festival with artists from Quebec. It was a great experience after two years without such an event. I admit that I was lucky because in a time of pandemic, I managed to play in two rooms and make a festival! I know that many people are living in total confinement and I do not forget them.
Who says Quebecer says necessarily poutine, the second love of my companion. I must admit that it was good. There were also more traditional dishes but I was so full of poutine that I couldn't taste the rest: next time!
I was representing The Source newspaper when I was there but of course I went to see my friends from La Boussole at their booth. It was a very rainy and cold Sunday and they were quite brave under that tent. Fortunately, they were able to shelter under the main tent afterwards.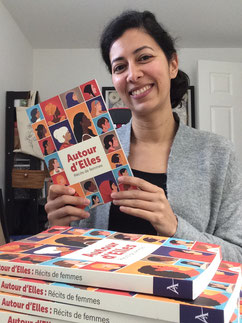 Launch of the book "Autour d'Elles: Récits de vie"
Last month, I also participated in the launch of the book "Autour d'Elles: Récits de vie" along with fifteen other French-speaking women of immigrant background in Canada. It was a beautiful moment and the stories were very diverse. 
I was very happy to receive the book in the mail and to read the testimonies of my compatriots.
It is available online: https://affc.ca/publications/autour-delles-recits-de-femmes/
The nature-refuge
Recently, we went to Bowen Island. I really like this small island, easily accessible from Vancouver, with a short ferry ride.
We were on the side of Fairy Fen Nature Reserve. The path is not especially different from what we had done so far, the spring nature was still asleep, the buds curled up. But at one point, we stopped, struck by the beauty of a place, near a small pond. Everything was so beautiful at that moment: the caress of the wind on the surface of this pond, a caress that made its surface sparkle and seemed to reveal a path for the fairies, the reflection of the trees through this distorting watery mirror, totally irregular and very regular in a way, and especially these trees (maybe birches) whose branches formed arms inviting to the embrace. The spring sun was gently warming us at the edge of this haven of peace. Only a few birds were calling to each other and the foliage was rustling.
I had also written a bit of prose about clouds burning at night over Grouse Mountain but my phone was broken so I'm not sure I'll be able to retrieve that little fragment...
Collaboration, compassion and mutual aid
These three values are part of my daily life and permeate my current relationships. It feels so good to be around people who share these values and have a real ethic. In the past, I had forced myself to stay with people adhering to other ideals, very far from mine (especially on possession, material) and I think it hurt me a lot, in an invisible way.
I need truth, integrity and I am happy today to have an entourage that supports me and that is in agreement with what I am deep inside.
Gagarin or the re-enchantment of the world
I had the chance to see "Gagarin" (here is the trailer) during the VIFF and it is a real nugget! An imaginary delight, an absolutely superb photography, an extraordinary perspective. Many qualifiers that were not to everyone's taste. At the end of the screening, while I was still in the film, caught up in the emotion, I heard someone belch out, "Yeah, beautiful but boring." A comment of total sadness and platitude. Of course, one can have an opinion and not like it, but frankly, let him go make a movie and we'll talk about it again, let him go talk about dreams, love and make people vibrate and we'll see.
Finally, I try to stay on the most beautiful note: that of the dream...