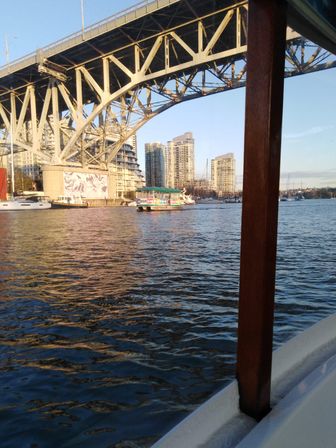 The easing of health restrictions in Vancouver allows for a bit more activity and February was a busy month for me, between yoga challenges and rehearsals (and even new performances of Les Éloquentes). 
Year of the Tiger Malaysian style
In early February, we celebrated the Year of the Tiger Malaysian style with a typical dish: yee sang. The first time I discovered this tradition was in Kuala Lumpur. We were at a restaurant and they brought us a round dish (for prosperity) with different piles of vegetables and julienned smoked salmon and other mysterious ingredients.
The tradition is that everyone around the table picks up the ingredients and mixes them with their chopsticks, while making wishes for the new year. Depending on the personalities of the guests, this can quickly turn into a vegetable firework display! But this year, we were in a very small group and it was manageable.
It was a beautiful moment of sharing with family and friends.
Artistic research
For the next play with Magda Ochoa, I will create original music. The first time I had such an opportunity was with Natalie Vella, when I created music for her short film, Nocito. I was an actress and a musician on that project. It was very strange to see myself projected on a big screen in a Parisian cinema and to hear my music played in dolby surround.
We are also doing a collective dramaturgy for this piece, which I find extraordinary! It's a beautiful project that shows more than ever that hardship is a great opportunity for learning and growth. I feel very fortunate to be able to be part of this La Boussole project.
Still in the arts but as a journalist, I met Angela Clarcke from the Italian Cultural Centre in Vancouver and we discussed the concept of a queen. I also met Sepideh Saba, a watercolourist of Iranian origin who, by chance, lived in Malaysia before moving to Canada! I conducted both interviews in person and it was a real pleasure to move around and have a human connection instead of always seeing each other in 2D. I could have spent hours with these interesting women!
The yoga challenge
I also participated in the winter yoga challenge with Mandana. It was intense: I did yoga every day in February! But it paid off: I feel better in my body, obviously more flexible and energetic. 
I'm doing inversions, something I hadn't done much before. The very first time, I still remember, was with Annabelle Leray in Australia. At the beginning of the course, she showed us how to do it and I thought I would never manage it. But through self-persuasion and hard work, I managed to do it by the end of the session. It's all about confidence!
Mandana has really helped me a lot and I will continue with her. She is doing bilingual classes. Her preparation work is very careful and all the sessions are thought out in a progression. She impresses me by observing well and taking the time to give personalized advice to each student. Of course, there are the right words when giving instructions but beyond that, I believe in energies and I think she is full of good vibes.
The end of Covid?
The restrictions are beginning to ease and we can finally envisage slightly larger gatherings. The epidemic is not over, but let's hope that the upturn is not far off. In Vancouver, wearing a mask is no longer compulsory but recommended, especially on public transport. Our families in Asia are once again confined and the latest news from China does not bode well, but for the moment, everyone is enjoying this little respite in Vancouver...
Despite the protests in Ottawa during the "freedom convoys" last month, the country is still playing by the rules. I was amazed to see internationally, the many convoys and the display of the Canadian flag to show their solidarity.
I am puzzled by the question of funding: how can you find funding, even food, to support such a movement when there are people living below the poverty line in the countries concerned but also in other countries? Why can't we find more funding for the fight against world hunger and the protection of the environment? Why do people choose to support "freedom fighters" financially when we could invest in the protection of life in general?
Radio
I now present titles from The Source on Radio Canada's Panorama programme every fortnight, when the newspaper comes out. The first time was only my second live! The first was a live broadcast for BFMTV in Australia about the missing Malaysian plane.
Obviously, there was some stage fright, especially as I couldn't see the person I was talking to. On re-listening, although I found myself stiff on the first article and too fast on the second, it wasn't too bad after so long. The link wasn't great and you lose a lot of quality but hey, it was a first.
I tried a special little mudra before I went on air and I think it helps.
The second time wasn't as steep but I got my feet stuck in the mat a bit. The third time should be more relaxed.
Anyway, it gives me more motivation for my podcast project. That's the hardest thing about this kind of project: keeping the same motivation all along. Fortunately for me, I have some invaluable supporters who are there!
The launch of the collection "Autour d'Elles: Récits de vie
The launch of the book is just around the corner (25 March) and will be open to all by registration for a Zoom conference. During the workshops, I heard some fascinating life stories from francophone women in Western Canada and I can't wait to read them all.
This project, a partnership between the Alliance des femmes de la francophonie canadienne and the publishing house Terres d'Accueil is so interesting that it deserves to be continued and perhaps even expanded. The more consultation with newcomers, the better the experience will be.
Contacts
I was contacted by a journalism student who wants advice on Australia. It's funny that I'm still being contacted about this, as I left the country almost 6 years ago now.
I've received quite a few requests for contacts and advice from journalism students but also sometimes from Reunionese and even other profiles...
Meeting Reunionese in Vancouver
I was FINALLY able to meet some of my colleagues here! I was so happy to hear the Creole accent and talk about places we have in common. These words rolled around in my ears with pleasure and reminded me that I didn't dream the place I came from. I'm not likely to go back for a while, not being able to leave the country for over a year now. 
But this meeting with three people from Reunion made me feel really good, an opportunity to travel a bit without taking a plane...